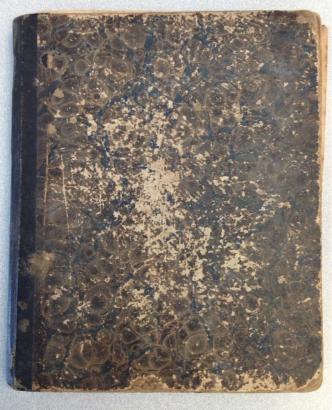 Found in the Archives: 19th-Century Recipe Notebook
Several months ago, I wrote about Mira C. Bostwick's European travels during the 1920s as told through her diaries (part of the Harriet Scott Palmer Family Papers, WH1453). Another fascinating part of that same collection is a recipe notebook kept by Mira's mother, Harriet Almira Scott Camp.
Who was Harriet? Using Ancestry Library Edition (available for FREE on all DPL computers), I was able to find out. Harriet was born April 7, 1835, and married Leroy Newton Camp (1828-1914) in Summit County, Ohio, in 1854. In 1855, she gave birth to son Edward Scott, who died at the age of eight months. Harriet had two more children: Frank (1858-?) and Mira (1867-1932). During the Civil War, Harriet's husband Leroy enlisted in Ohio's Company D in May 1864, but mustered out after three months. Around 1871, the Camp family moved from their farm in Tallmadge, Ohio, to Cleveland. Harriet died February 8, 1889, at the age of 53.
Harriet's fragile notebook is thought to have been purchased around the time of her marriage. Written inside are nearly 100 recipes. Early entries in the notebook include recipes for puddings (rice, cottage, and corn starch), currant wine, and preserved eggs that keep "sound and good for two years."
There are several recipes for baked goods such as pies (lemon, boiled cider, Boston cream, and chicken) and cakes with names like Jackson Sponge Cake, Cheap Cake, Railroad Cake, Pork Cake, Hickory Nut Cake, and Lincoln Cake. There are cookies, too—and given the number of recipes jotted down, Harriet may have had a fondness for ginger cookies in particular. There are oddities as well, such as a recipe for a baked dish called "Mountain Dew," which consisted of "3 soda crackers rolled fine, 1 pint milk, yolks of 2 eggs with salt."
Harriet's notebook documents not only her cooking, but the many ways she managed the Camp home. There are instructions for "bleaching with chloride of lime," creating a "fluid for cleansing gloves, feathers, velvet," and dying cottons and woolens in shades of orange, blue, drab, and scarlet. Harriet also kept recipes for concoctions meant to treat illnesses like small pox and cholera.
Paging through the many recipes and remedies, it is apparent that Harriet—like many women of her time—acted as the family cook, maid, seamstress, and nurse. Was this a hard life? The melancholy passages that Harriet chose to transcribe in her notebook seem to indicate it was:
Don't try to be happy. Happiness is a shy nymph, and if you chase her, you will never catch her; but just go on in the way of duty and she will come to you.  (Eliphalet Knott)
Harriet Scott Camp's recipe notebook is available for research in DPL's Western History and Genealogy Department.