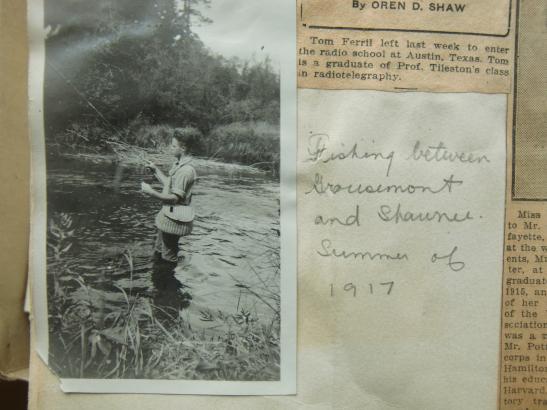 John MacHarg, his grandfather, owned a sporting goods equipment store in Rome, New York in the nineteenth century.  He specialized in manufacturing fly fishing equipment which he happily tested with his family in Canada and the northeastern United States.
William Ferril of Denver married Alice MacHarg.  He instantly began using the fly fishing equipment, too.  The couple had three children, Lucy, Harriet and Thomas.  All loved to fish.
Thomas Hornsby Ferril fished the streams of Colorado throughout his life.  The featured image depicts his efforts in Colorado while he was attending Colorado College.
The image may be examined in one of Ferril's scrapbooks available for research on the 5th floor Western History Department of Denver Public Library.