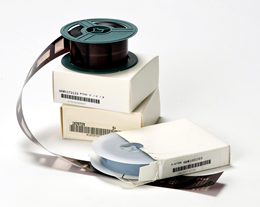 FamilySearch Film Ordering Changes
Patron-placed FamilySearch film and fiche orders begin 21 September 2011.
The current process patrons use to order microfilm or microfiche to a family history center is changing. Patrons will place their orders online using the new Online Film Ordering system. The FamilySearch Online Ordering service has been deployed in some areas of the United States. Remaining areas will receive access within the next several weeks.
At the FamilySearch Online Ordering Page, patrons can create a personal account and select their preferred Affiliate Library (or family history center) where films will be sent. They make payment using a Visa or Master Card credit or debit card or by PayPal. Patrons can also make arrangements to purchase prepaid credit cards. [Think gift credit cards at holiday time!]
Patrons place their own orders. There is a 24-hour wait before an order is processed. This gives the patron who has "buyer's remorse" an opportunity to cancel. The patron and the Affiliate Library will receive e-mail notification when the items have been shipped.
Patrons may choose to order for a short term or an indefinite-extended loan. Fiche are housed at the Affiliate Library as a permanent loan. Microfilm ordered on a short-term loan may also be extended to an indefinite loan. The patron's card will be automatically charged if the film is not returned when due.
Films and fiche with restrictions will not be loaned. Patrons and the Affiliate Library will be notified by e-mail if a film or fiche is backordered. Films and fiche that have been digitized will no longer be loaned to Affiliate Libraries.
The benefits of the system are:
Patrons can order microfilm or microfiche. They need not go to an Affiliate Library or family history center to place an order.
Money transactions for loans are removed from the Affiliate Library.
The Online Film Ordering system provides for better film inventory management.