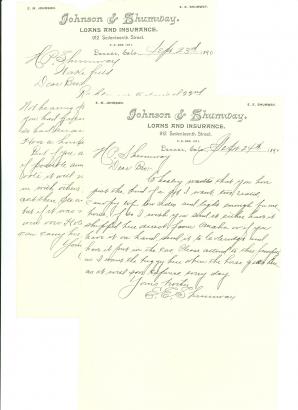 Fabulous Finds Friday: Shumway Family Papers
This little collection is made up wholly of correspondence received and sent by Edgar Edmund Shumway covering topics such as financial dealings; family business; stock information; and lumber, coal, and mining concerns. Edgar Edmund Shumway was born in Houston County, Minnesota in 1862, the son of Jeremiah and Mary Shumway. He was married to Nona Wyatt and, after her death, to Emma (Hubbell) Cobberly. In the late 19th and early 20th century Shumway was the president of the Johnson & Shumway Loans and Insurance Co. in Denver.
Original correspondence is a treat for researchers and the general public alike because it offers a unique glimpse of life, work, and customs in times past. We're grateful to Helen Fredell for donating this material to the library so that it can be of use and enjoyment to the community.
Donations to the Western History and Genealogy Department allow us to preserve, record, and make accessible the history of our great state and region. If you or someone you know has material that may be a good fit for our Archives Collection, please don't hesitate to contact us! Email Erin Edwards at The Professor@denverlibrary.org or call 720-865-1810.