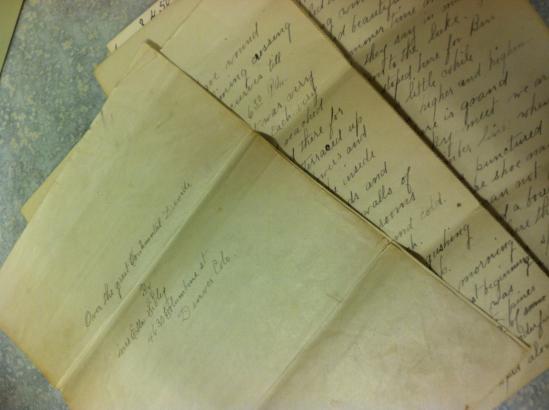 Fabulous Finds Friday: Ella Sibley-Jewett Memoirs
Welcome to Fabulous Finds Friday!
This week's Fabulous Find highlight is the Ella Sibley-Jewett Memoirs. Ella Sibley-Jewett (Ella Farrah) was born in Illinois in 1868. After her husband deserted her in 1896, she moved her four children from Kansas to Colorado, arriving in Denver on August 1, 1900. Her surname changed to Sibley in the 1920s and to Jewett in the 1930s.
The Ella Sibley-Jewett memoirs are presented in three handwritten manuscripts. The first, "Why I Came to Colorado", was written ca. 1935 and is a fictionalized account of the Farrah's family life and conditions in Kansas in the late 19th century. The second, "Over the Great Continental Divide," is an account of Sibley's travels with her two sons, Roy and Ben Farrah, and their wives over the Continental Divide in 1925. The last, "Over the Great Divide," is a poem written in conjunction with the travelogue.
Donations to the Western History and Genealogy Department allow us to preserve, record, and make accessible the history of our great state and region. If you or someone you know has material that may be a good fit for our Archives Collection, please don't hesitate to contact us! Email Erin Edwards at The Professor@denverlibrary.org or call 720-865-1810.