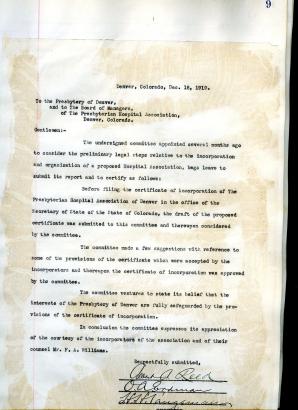 This week's Fab Find highlight: Presbyterian-St. Luke's Medical Center records, 1898-1996 (WH 1589). The Presbyterian-St. Luke's medical facility began as two separate hospitals: St. Luke's Hospital, which admitted its first patient on June 27, 1881, and Denver Presbyterian Hospital, which opened in 1926. Presbyterian-St. Luke's is now a 680-bed tertiary care facility serving a seven-state region, including Colorado, Kansas, Nebraska, New Mexico, South Dakota, Utah, and Wyoming.
Presbyterian-St. Luke's hefty historical archives includes items such as administrative, historical, operational, and financial records; photographs; and building plans by Rogers, Butler & Burgun Architects (N.Y., N.Y.), and Roland L. Linder & Associates (Denver, Colo.). Many thanks to the Presbyterian-St. Luke's Executive Team and Rebecca Hunt for turning this historical treasure trove over to us for safekeeping and research access.
Donations to the Western History and Genealogy Department allow us to preserve, record, and make accessible the history of our great state and region. If you or someone you know has material that may be a good fit for our Archives Collection, please don't hesitate to contact us! Email Erin Edwards at The Professor@denverlibrary.org or call 720-865-1810.