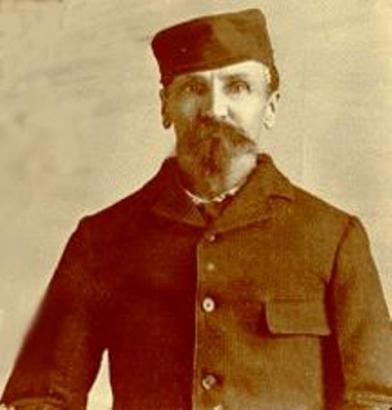 In the late fall of 1873 a group of 21 men left Provo, Utah looking to make their fortune in the Colorado gold field. Amongst the group of 21 was a man named Alferd (also known as Alfred) Packer. Legend has it that on January 21, 1874 Packer and some of his companions met Chief Ouray, known as the White Man's Friend, near Montrose, Colorado. Chief Ouray recommended they postpone their expedition until spring, since they were likely to encounter dangerous winter weather in the mountains.
Ignoring Ouray's advice, Packer and five others left for Gunnison, Colorado, on February 9. Besides Packer, the group was made up of Shannon Wilson Bell, James Humphrey, Frank "Reddy" Miller, George "California" Noon, and Israel Swan.
Hopelessly lost and out of provisions, the group became stranded and snow bound in the Rocky Mountains. What happened next has been debated by historians and researchers for several years. According to Packer, in one of the many accounts he gave to authorities, he said he had spent a day scouting to try and find a route out of the mountains. When he returned to the small group's campsite he found Shannon Bell roasting human flesh. Packer claimed when Bell rushed him with a hatchet,  he gunned him down. Packer said Bell had gone mad and murdered everyone else in the party.
On April 16, 1874, Packer arrived at Los Pinos Indian Agency near Gunnison. He spent some time in a saloon in Saguache, Colorado, where he met several of his original party. When questioned about his companions, Packer claimed he killed Bell in self-defense, but his story was not believed. On August 5, 1874, Packer signed a confession admitting to murder and cannibalism. Alferd was jailed in Saguache but escaped soon after. In 1886, after being caught in Wyoming living under an alias, Packer was sentenced to 40 years in prison. He was later paroled in 1901. Packer died in 1907 at the age of 65.  At the time of his death he had supposedly changed his meat eating ways by becoming a vegetarian.