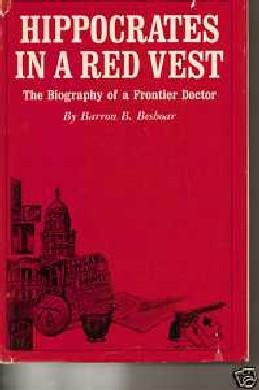 Your ancestors might have worked at the brick yard or at the local newspaper, The Advertiser.  Perhaps they visited the doctor or taught school.  Any of these activities among many, many others would have led them to Dr. Michael Bechoar.
Born in Pennsylvania, Beshoar graduated from the University of Michigan.  He practiced medicine in Pocahontas, Arkansas until the Civil War broke out.  With his friends and neighbors, he joined the Confederate Army in 1861.  In 1863, Union forces captured Beshoar.  After signing the Oath of Amnesty, Beshoar joined the Union Army as an Acting Assistant Surgeon.  He was assigned to the hospital at Benton Barracks, St. Louis, Missouri.  Later, he transferred to the hospital at Fort Kearny, Nebraska.
After the war, Beshoar made his way to southern Colorado.  He eventually settled in Trinidad where he remained until his death in 1907.  Barron B. Beshoar published Hippocrates in a Red Vest, a biography of his remarkable grandfather in 1973.  He then donated his papers to the Denver Public Library. 
Available for research in the Western History/Genealogy Department of the Denver Public Library, the Beshoar Family Papers (WH1083) include 1864-1866 medical records from Benton Barracks and Fort Kearny as well as correspondence related to every aspect of western life in the nineteenth century.