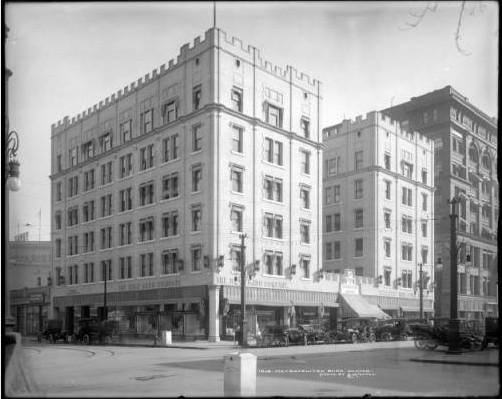 Double Takes - Made Me Look - Again!
Glass plate negatives, the state of the art in the 1890s, when they were done just right, could provide almost as much detail as today's digital cameras. One disadvantage of this technique was that it required a long exposure time, and so it was used more for landscapes or still life photography. Another disadvantage was that the entire process of preparing the negative, exposing it, and developing it had to be done on the spot, within about 15 minutes. This meant the photographer had to have a portable darkroom, chemicals, and all of the other equipment at his fingertips and ready for use.
Some photographers, notably William Henry Jackson, among all of his other work, actually made many spectacular glass plate images deep in the Grand Canyon, hauling his gear down the trails on a donkey in the desert heat - but that's another story.
This image of the Metropolitan Building in Denver, by L. C. McLure (MCC-1614), is one of the some 4,200 McClure photos in our online database, and it displays the characteristic near-microscopic detail, expert composition, and contrast that makes his photos so desirable.
But it also has some interesting anomalies that become visible using the online enlarging tool. Taken in 1911 or 1912, when the automobile was gaining ascendancy over the horse and buggy, the extended exposure time has captured some of these early vehicles in the middle of the parking process. So, not only does the photo show a brand new downtown office building and a bunch of great old cars, it shows us some ghostly evidence of the bustling activity that made Denver just as exciting then as it is now.
Explore the photos of Louis Charles McClure in our database, and take advantage of the zoom tool to find all sorts of interesting hidden details that give a flavor of life a hundred years ago.