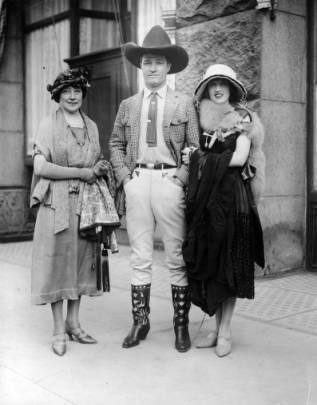 Double Takes - Made Me Look - Again!
People have always known how to have fun getting dressed up, and Harry Rhoads was a photographer who knew how to capture people having fun. Here's a picture [RH-5917] of cowboy star Tom Mix with a couple of admiring flappers. Here's the Wikipedia bio on Mr. Mix:
Thomas Edwin "Tom" Mix (born Thomas Hezikiah Mix; January 6, 1880 – October 12, 1940) was an American film actor and the star of many early Western movies. Between 1909 and 1935, Mix appeared in 291 films, all but nine of which were silent movies. He was Hollywood's first Western megastar and is noted as having helped define the genre for all cowboy actors who followed.
Tom Mix was "the King of Cowboys" when Ronald Reagan and John Wayne were youngsters and the influence of his screen persona can be seen in their approach to portraying cowboys. When an injury caused football player John Wayne to drop out of USC, Tom Mix helped him get a job moving props in the back lot of Fox Studios.
For his contribution to the motion picture industry, Tom Mix has a star on the Hollywood Walk of Fame at 1708 Vine Street. His cowboy boot prints, palm prints and his famous horse Tony's hoof prints are at Grauman's Chinese Theatre at 6925 Hollywood Boulevard.
Here are some of the many contemporary cultural references that have been made to this early Hollywood icon.
In 1967, Mix was featured with many other 20th century celebrities on the cover of The Beatles' Sergeant Pepper's Lonely Hearts Club Band.
In Woody Allen's 1983 film Zelig, archival footage is shown of Mix attending a party at Hearst Castle near San Simeon, California.
In The Beverly Hillbillies, Jed Clampett's reason for going to Beverly Hills was to live in the same place as Tom Mix.
Tom Mix is mentioned as being a pall bearer and weeping at the funeral for Wyatt Earp at the beginning of the end credits for the 1993 George P. Cosmatos film Tombstone.
In the Doctor Who episode The Gunfighters, the TARDIS lands at Tombstone, Arizona in 1881, where the Doctor says he doesn't understand why they want to dress like Tom Mix.
In the series Bewitched in the episode "Serena's Youth Pill," Darin tries to convince young Larry Tate to drink the magic antidote by telling him it would help Larry grow up to be a cowboy like Tom Mix.
Love the hat, Tom!