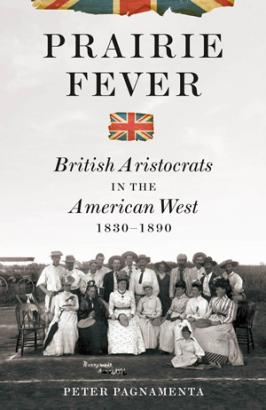 With the Olympics still in full swing the jacket of Prairie Fever caught my eye. The Union Jack above a group of gentlefolks in the middle of the vast American prairie. 
Readers may be familiar with L. Milton Woods 1989 work British Gentlemen in the Wild West: the Era of the Intensely English Cowboy or Colin Rickards Bowler Hats and Stetson: Stories of Englishmen in the Wild West or possibly the classic by Lee Olson Marmalade and Whiskey: British Remittance Men in the West. These classics brought to the attention of readers the fascination of the "Wild West" for folks from the British Isles.
Peter Pagnamenta in Prairie Fever: British Aristocrats in the American West, 1830-1890 relegates them to the back shelf. Prairie View is refreshing and an accessible read recounting  settlements and schemes of agricultural colonies and hunting adventures designed for the British aristrocrat.
Coloradoans are familiar with Lord Dunraven and his designs on Estes Park for hunting preserve for himself and his ilk. Others may know the story of "Little England" i.e., Colorado Springs and its quentessential Englishness. These are examples from our own backyard.
Readers should be informed and entertained by Pagnamenta in Prairie View.