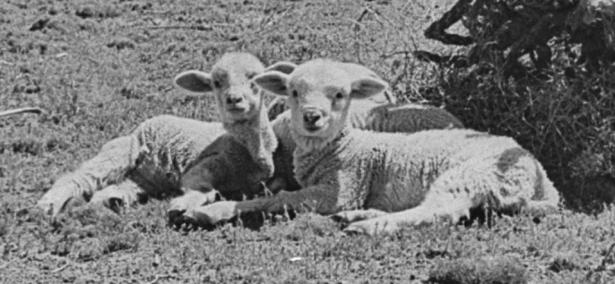 Details, Details, Fascinating Details
A person can spend hours browsing the seemingly endless supply of great photographs in our database. There are so many images, that time allows a browser to stop and go more deeply into only the most eye-catching of all of the thumbnails.
Even using the larger thumbnails available in the "Display Options" dialog, there are details that emerge using the zoom tool that could easily be missed by a passing glance.
This 1939 contact sheet print of a shepherd in a field didn't look too impressive in the little thumbnail, but for some reason I decided to zoom in and found graphic art gold. The unknown photographer didn't have a zoom lens, but because this photo had a high resolution in its initial form, the perfect stock photos of lambs and a shepherd were revealed.
Designers, decorators, businesses, authors and all kinds of people have acquired prints of our images that focus on a particular detail: a person, a house, a business, a horse – the list is endless. Our expert and flexible photo lab can crop, enlarge, and print all or part of an image any size up to 50 inches.
Remember that detail will only emerge with an image that has a high resolution in its actual, pre-digital form. If the detail is there using the online zoom tool, then it will also appear in the print.
Here's a link to the shepherd photo: http://bit.ly/106iTyJ
Here's our price list, print size availability, and other details about getting prints of our photos.
Happy Browsing!