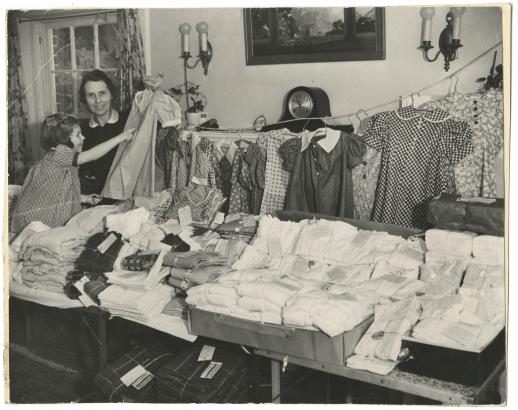 Denver's Needlework Guild
There is something surprising about Western History and Genealogy's collection of records from the Denver Branch of the Needlework Guild of America: with the exception of a couple yarn bookmarks, it does not contain a scrap of needlework.
Despite what one might infer from its name, the Denver Branch of the Needlework Guild of America was not a textile arts club keen on cross-stitch or lacemaking. The Needlework Guild was a benevolent organization known as "the charity that helps all charities." The group's main focus was to collect new household linens and garments (either sewn or purchased) for charitable agencies to distribute to children and adults in need.
The Needlework Guild of America (NGA) has its origins in England, where in 1882 Lady Diana Wolverton of Dorsetshire implored women to make two garments (one to wash, one to wear) for orphaned Welsh children whose parents had been killed in a mining disaster. Soon, a permanent organization called Queen Mary's Needlework Guild was formed to collect a supply of new clothing and household linens for the needy each year. The group believed new clothing and linens boosted the morale of their recipients much more than used and mended items.
In January 1893, the Denver Branch of the Needlework Guild of America was established by Mary Caroline Jarvis Bancroft and Mary Estabrook Kountze at a Ladies' Monday Society held in St. John's Episcopal Church. Membership in the Denver Branch was achieved with an annual contribution of two or more new articles of apparel or a monetary donation. Members were mostly women, but men and children were also encouraged to join. The organization promoted itself as a non-sectarian association, with membership and charity open to all creeds and classes.
Items collected by the Denver branch numbered in the hundreds in the mid 1890s, but rose to tens of thousands by the mid 20th Century. Denver agencies such as Argyle Park Square, St. Vincent's Orphanage, and St. Joseph's Hospital relied on the Needlework Guild's donated garments and linens to supplement their resources.
By 1950, the Denver Branch had 102 sections of members throughout the city. Only 70 sections remained active in 1982, and this number continued to decrease until the Denver Branch disbanded in 2012.
The records of the Denver Branch of the Needlework Guild of America (WH2244) are now available for research in DPL's Western History and Genealogy Department.