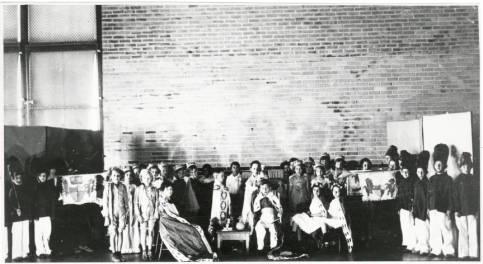 ...when you browse through the "Creating Your Community" digital collections. The third grade class of University Park Elementary School was photographed during a pagent. The archivist brought the image and ask me what I thought they were  performing.  Being smitten with "all things ermine" I exclaimed "it is the coronation of George VI of England." 
What is great about this image is you can see that "King George VI" is the seated fellow holding the scepter, beside him on a table is the orb and crown. To his right is his queen, ''Elizabeth [this generation knew her as Queen Elizabeth, the Queen Mother after the death of George VI in 1952]. The two young princesses, Elizabeth and Margaret Rose, are seated to the kings' left. 
Keen eyes will pick out the Archbishop of Canterbury and the Dean of Westminster, as well as all the nobles with their coronets and the guards with their tall bearskin hats.  
This photo brings flooding back all sorts of memories of my own school pagents. We would love to hear from any of the students from this class play from 1937 at University Park Elementary, Denver.