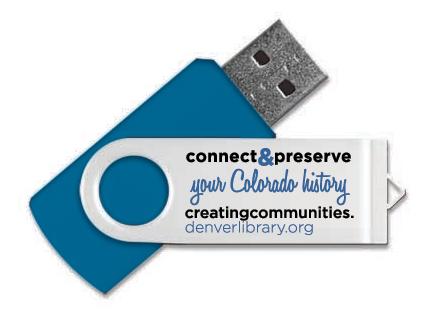 Creating Your Community Colorado's Social Archive to Launch March 20th
The Denver Public Library (DPL) is pleased to announce the launch of Creating Your Community (CYC) a new interactive website that allows you to share your stories, upload images and create your own communities all while preserving Colorado history. This participatory archive was created in collaboration with the Aurora History Museum, Auraria Library, Blair-Caldwell African American Research Library, Colorado Genealogical Society, Douglas County Research Center, Four-Mile Historic Park, History Colorado, Historic Denver, Ira M. and Peryle Hayutin Beck Memorial Archives of Rocky Mountain Jewish History, Penrose Library at the University of Denver, Lakewood Heritage Center, Zion Baptist Church and made possible by a grant from the Institute of Museum and Library Services (IMLS).
CYC builds on the Creating Communities website which launched in 2010, featuring digitized images of seven historic Denver neighborhoods. This time around the community (that means you!) will be the content providers. Colorado's history not only lives in our libraries and museums, but in the stories and photos collected by families and communities. Capturing and preserving these materials will open up a new chapter in Colorado's history that will be available to future generations of history lovers and researchers.
DPL and the community partners are also going to be hosting several preservation and scanning events throughout the metro area to scan your materials, show you how to use the website and give you tips on how to preserve your materials at home for future generations. DPL will also host public scanning days in the Community Technology Center (CTC) every third Sunday starting in April from 1-4pm. For more details check out the events page on the website.  
We hope you will check out the website on March 20th and help us educate and inspire many generations to come by sharing your experiences and stories with the community.