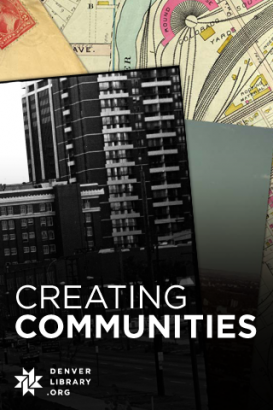 Creating Communities Website Launches August 1st!
The Creating Communities Website launches August 1st! We encourage you all to explore the website and learn more about the history of Denver.
The Western History Genealogy Department, in partnership with the City of Denver, History Colorado, Auraria Library, and University of Denver Penrose Library has brought together a number of historic resources and digitized archival materials. The project is funded by a National Leadership Grant from the Institute of Museum and Library Services (IMLS).
We are having an exhibit at the Central Library in September and are teaming up with Fresh City Life to host a Creating Communities Scrapbooking Workshop on August 21st from 2-4pm. Registration opens on August 6th.
Website highlights:
Neighborhoods– We've digitized photographs, maps and documents from seven of Denver's historic neighborhoods including Auraria, Barnum, Capitol Hill, Five Points, Park Hill, University Park and West Colfax. Each neighborhood highlights the people, places and events that shaped each neighborhood's unique history.
Building Histories-Digging through all of the historical resources available to compile your house or building history can be a daunting task. We've mapped a number of resources such as Assessor Records and National and State Historic Buildings on a Google map to make your house or building history research a breeze. There are also tips on how to search photographs, maps and building permits. Plus we have digitized Householder Directories, City Directories and Denver Municipal Facts.
Collections- If you just feel like browsing around, we have a vast collection of digitized archival materials in the collections section.
myDenver- is a place for you to share your Denver history - upload photographs and favorite stories, and engage in conversations to enrich your Denver community.
Creating Communities Mobile Application- (Update: 02/13/2014 - The Creating Communities Mobile Application is no longer available.) The mobile version of the Creating Communities project will enable fans of Denver history to explore our 7 historic neighborhoods. More than just walking tours of Denver, the app features National and State Historic buildings from the Office of Archeology and Historic Preservation (OAHP) at History Colorado and historic photographs from the DPL Western History Digital Image Collection. Users of the Creating Communities app can contribute to the Creating Communities experience by adding comments, uploading photos and stories about the places and events featured in these neighborhoods. The app is available on iTunes.
Please stop by and explore the website and contribute to the myDenver section. We look forward to hearing your stories about living in Denver and sharing the history that has shaped this great city we call home!