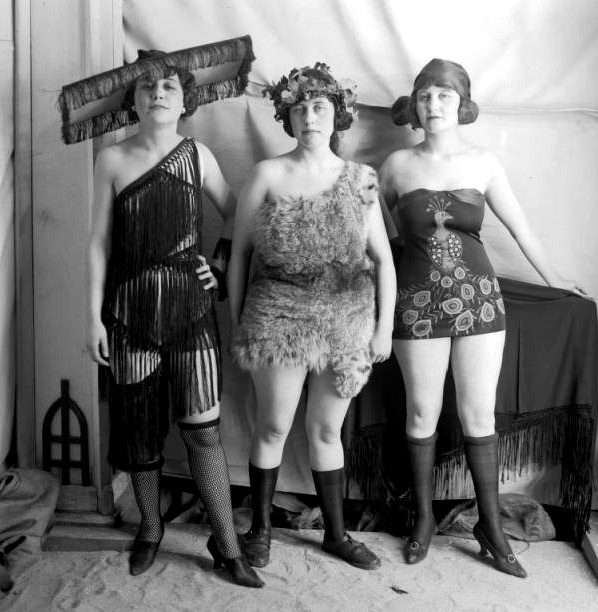 Halloween didn't become the Big Event it is today until the 1950s, and only in the last 10 or 15 years has it become the all-out extravaganza it is, now, in the 2010s. But people in times past managed to figure out all kinds of excuses to raid the attic and play dressup ~ Denver Press Club parties, events hosted by the Kermis (a Catholic fund-raising group), Central City theater actors, and sometimes less amusing causes like a KKK rally or a Native American reduced to wearing an Uncle Sam outfit.
Amazing results were achieved with fabric, beads, and boot polish, and elaborate headgear always produced a great effect without too much effort. Professionals had more polished costumes, but often a man just showing up in his long underwear could pass for a footman - all he needed was a plywood halberd to put over his shoulder.
Women's bathing suits in the 20s and 30s were fanciful enough to pass as costumes just on a day at Lakeside, and there were plenty of men who seemed to delight in donning women's clothes at the drop of a hat, especially Harry Rhoads. In a pinch, almost anything could be made into a costume using fringe or fur, and countless gypsies, hobos, princes, or Little Bo Peeps were fashioned out of stuff found around the house.
The Colorado Springs Sunflower Carnival Parade was a great place for people to dress up, as was St. Patrick's day, a Buffalo Bill Wild West Show, a school play, or promotional Ground Hog day photoshoots.
Search our database for "costume," "outfit," or even "hat" to browse through the hundreds of "fashion looks" that are in our collection, and
HAPPY HALLOWEEN!!!!