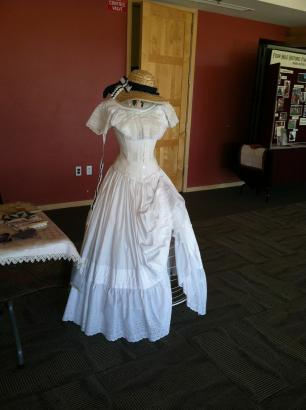 Community Tuesday - Living Local at Four Mile Historic Park
Two weeks ago we were at the Living Local event at the Four Mile Historic Park.  This annual event celebrates personal reliance and sustainability in the urban setting.  It has many interesting vendors and volunteers willing to show and explain their crafts to visitors. 
I do have to say, it was a very blustery, windy Sunday.  I was very grateful we were inside.  Here are some photos of the event.  One of my favorite things was the volunteers dressed in period clothing.  Somewhere sitting outside playing music, somewhere inside working on traditional crafts, like bobbin lace making, quilting and knitting.  As I walked around outside, there were vendors ranging from gardening, to stationary, to finances.  There were even wagon rides around the park, as well as access to the buildings.
All in all, it was a pretty cool day, both literally and figuratively.  It's an interesting experience for anyone who wants to take a ride back in time.  If you would like to see or add your own photos or stories about Four Mile Historic Park click here.