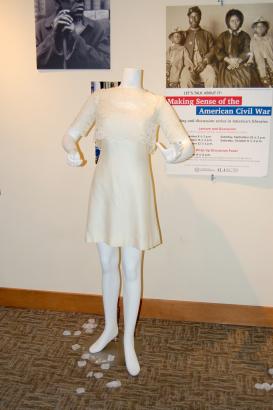 Community Tuesday - "I-Do"
Well, it's spring and it's time for wedding season.  Coincidentally, Creating Communities just held an event celebrating the tradition of marriage for the members of Zion Baptist Church. 
Zion Baptist Church has been a partner with the Creating Communities project for over two years.  We have teamed up with them to help preserve a part of their history.  For those of you who don't know, Zion Baptist Church was the first, and is the oldest functioning African American Church in Denver.  Established in 1865, Zion is a tight knit community.  Some members of the congregation are fourth generation.  Many of the members were kind enough to share their family, and even personal weddings with us.
On Saturday May 18, 2013, the "I-Do" event was held at Blair Caldwell African Research Library in Denver, Colorado.  It was a fun day, full of stories, socializing, reception-like music, and even wedding cake.  A slide show of donate images were presented, an exhibit of wedding dresses created, and a video produced by History Colorado on Dr. Justina Ford was shown.
What I liked most about the day was the community feeling that followed everyone that came.  It was nice to see a community come together, one that has deep connections to one another.  So much so, that there were many comments and discussions about the donated pictures and how the people have aged since their weddings.  It was good to know that there are still groups out there who aren't afraid to laugh at themselves, and who are still willing to cry with each other when needed.
It is my understanding that the wedding dress exhibit will be up for a few more weeks.  If you are interested it is on the third floor of the Blair Caldwell Library.  If you are interested in seeing the images donated to the Creating Communities website, or are a member of Zion and would like to add your own photos or stories click here.   It you would like to create a similar site for your community and or church visit the Creating Communities website by clicking here.