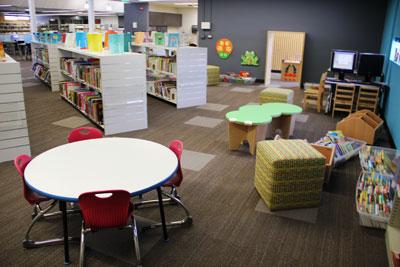 Community Tuesday: Ford-Warren Renovation Celebration
We will be on hand to scan your photos and take your picture at a special Ford-Warren photo booth to be included in the Ford-Warren Community on the Creating Your Community website. Join us to celebrate Ford-Warren's renovations and new technology with activities, refreshments and remarks from Councilman Albus Brooks. 
 The Ford-Warren Library has a rich history. The original library built in 1913 was the first branch of the Denver Public Library to be opened. The building was built with money from the Andrew Carnegie Corporation and cost $20,000. Located on High Street and 34th Avenue, the library was named for Bishop Henry White Warren. Warren was a scholar, author and churchman in the Methodist Episcopal Church. The building was designed by Fisher and Fisher in the Italianate style and featured a frieze of colored marble and tiles with big pompleian vases and bronze embellishments.
In 1972, it was becoming clear that the 59 year old library was  not meeting the needs of the growing community and had numerous maintenance problems. In September 1972, the voters of Denver approved a bond proposal to build a new library. On June 22, 1975 the Warren Branch closed its doors.
The new Ford-Warren Library opened on July 6, 1975 just six blocks from the Warren Library at 2825 High Street. In addition to Bishop Henry White Warren, the branch was named for Dr. Justina L. Ford, who was the first Black female physician in Colorado. The architects were Moore-Combs-Burch and the building is an example of the modernist style Brutalism.
In November 2007, Denver voters once again voted to support library renovations. We hope you can join us on Saturday to celebrate the new and improved Ford-Warren Library.