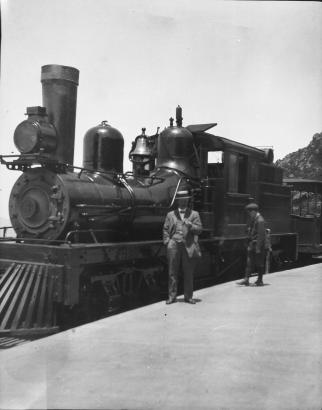 Colorado Narrow-Gauge Railroads
 
John Henry Bowman moved to Georgetown, Colorado in 1885. He bought stock in the American Sisters Mine, a silver mine in Clear Creek County, Colorado. Bowman's daughter, "Mellie," married John James ("J.J.") White, who bought the rest of the mine and also practiced law. Today, the Bowman/White House in Georgetown is a historical site.
 
WH32, available in the Western History Department, is a collection of the papers of these families that reflects their lives in Colorado. Included in the collection is a box of nitrate negatives. Dennis Hagen, is an expert and an enthusiast in narrow-gauge railroads. He was very interested in the following images as was Charles Albi, a railroad author and expert who volunteers at the library.
 
The first image shows Engine Number 4 – a Shay-type Locomotive.  Although similar to locomotives used on the Argentine Central near Silver Plume, Colorado, Charles Albi discovered that this engine was actually used byCalifornia's Mt. Tamalpais & Muir Woods Railroad.
 
The next two images are of Engine 69 of the Colorado and Southern Railroad probably near Elk Creek, Colorado.  Engine 69 pulled the scrap train that dismantled the Georgetown Loop in 1939, and it was the last engine to run at Black Hawk in Colorado.
 
Two cabooses are clearly visible in the photograph of the train crossing a bridge. This photograph was taken near Elk Creek in Clear Creek Canyon.
 
The last image portrays Engine 60, but look at Engine 69 on the other end of the train. It turns out that engine 69 is pulling a dead engine 60 and coach to a final resting place on display in Idaho Springs, Colorado.  This photograph was probably taken around 1941.
 
The date of the images is not known. The Colorado and Southern Railroad bought the Georgetown Loop in 1898 and continued operating along Clear Creek until the early 1940s, so it is likely that the photographs date from in between those two dates. If anyone can tell us more details about the photographs, it would be greatly appreciated.