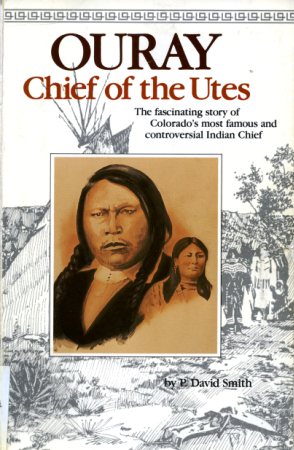 Chief Ouray was famous in Colorado and the United States as a man of peace. His great negotiating skills helped prevent the kind of massacres and depredations that had been visited on other tribes from being perpetrated against the Utes. But among the Utes, Ouray was known as a fierce warrior who helped battle Plains tribes for hunting rights. He was also feared as an "enforcer" for Chief Nevava, and killed Utes for disciplinary reasons. How did he come to believe in treaties (when so many had already been broken) instead of battle? Ouray was born near Taos, where his Tabeguache Ute band often stayed. There, he received education from Catholic Friars and lived for a time with a wealthy Spanish family. He spoke Spanish fluently, Apache, some English, Ute, and Indian Sign Language. Because this cultural diversity made him more world-wise than most Utes, Ouray assumed important roles in the tribe: interpreter, negotiator and chief. While in Taos, he twice witnessed the U.S. Army's impressive might: during the Mexican-American War's Capture of Santa Fe, and again when the Army brutally repressed the Taos Revolt of Mexicans and Pueblo Indians. As treaties were being broken and the Utes were losing their ancestral lands on the Western Slope and central mountains of Colorado, it may have been this firsthand knowledge of the U.S. military, rather than an unwillingness to fight, that caused Ouray to choose negotiation as a first option. Though known as Chief of the Utes by whites, many Utes did not acknowledge Ouray as such. The Utes consisted of seven tribal bands who met up only on special occasions and who had no overarching leader. The creation of a "chief" was a Washington invention used to aid treaty negotiations. In fact, many Utes resisted Ouray's negotiating tactics, and would rather have fought the white man. And though he rose to the status of chief, Ouray was actually half-Apache! His father had been an Apache child stolen in a raid and raised as a Ute. Ouray, in fact, did not go through the Ute puberty right and "become a man" in the Ute tradition until he was seventeen and had moved to Tabeguache Ute territory in Western Colorado; late for a Ute. After his first wife died, Ouray in fact married another Apache who had been raised as a Ute, the beautiful and equally famous Chipeta. For more about Ouray, come to WHG and read Ouray: Chief of the Utes by P. David Smith. To see our other books about Ouray and the Utes, search the catalog. Search our Digital Collections for photographs, newspaper articles and more. Click here and here for information about the photographs above.
cimarron is in nm. maxwell ranch was in cimarron not near. crappy picture book.
after 6 printings think you would get it right
rep as attny is also poor
There is a Cimmrron near the Blabk Canyon southeast of Montrose.