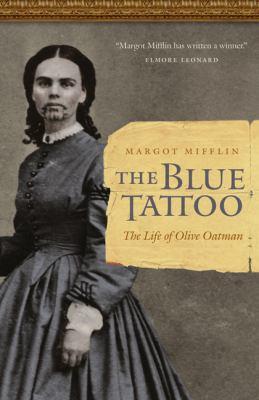 Caroline Bancroft Prize Update
The Caroline Bancroft prize shall be awarded annually to the author of the best book on the history of the trans-Mississippi West published during the previous year.
To accomplish this objective, volunteers from the Denver Public Library's Western History/Genealogy Department have already read and evaluated over forty books on Western History. Submitted by publishers, these books represent the best of the best for 2009.
Numerous spirited discussions and two preliminary rounds of voting have narrowed the field to three finalists. These finalists are presented here in alphabetical order with descriptive excerpts copied from publisher or author websites.
The Blue Tattoo, by Margot Mifflin, University of Nebraska Press
In 1851 Olive Oatman was a thirteen-year old pioneer traveling west toward Zion, with her Mormon family. Within a decade, she was a white Indian with a chin tattoo, caught between cultures. The Blue Tattoo tells the harrowing story of this forgotten heroine of frontier America. Orphaned when her family was brutally killed by Yavapai Indians, Oatman lived as a slave to her captors for a year before being traded to the Mohave, who tattooed her face and raised her as their own. She was fully assimilated and perfectly happy when, at nineteen, she was ransomed back to white society. She became an instant celebrity, but the price of fame was high and the pain of her ruptured childhood lasted a lifetime.
Dreaming of Sheep in Navajo Country, by Marsha Weisiger, University of Washington Press
Dreaming of Sheep in Navajo Country offers a fresh interpretation of the history of Navajo (Diné) pastoralism. The dramatic reduction of livestock on the Navajo Reservation in the 1930s - when hundreds of thousands of sheep, goats, and horses were killed - was an ambitious attempt by the federal government to eliminate overgrazing on an arid landscape and to better the lives of the people who lived there. Instead, the policy was a disaster, resulting in the loss of livelihood for Navajos - especially women, the primary owners and tenders of the animals - without significant improvement of the grazing lands.
The Garden of Invention: Luther Burbank and the Business of Breeding Plants, by Jane Smith, The Penguin Press
A century ago, Luther Burbank was the most famous gardener on the planet. Burbank had learned the secrets of breeding and crossbreeding ordinary plants from farm and garden until they were tastier, hardier, and more productive than ever before. His name was inseparable from a cornucopia of new and improved plants — fruits, nuts, vegetables, and flowers — for both home gardens and commercial farms and orchards.
The Garden of Invention revisits a time when agriculture was moving west across the continent, when plant inventors were popular heroes, and when the public clamored for new varieties that would extend seasons, increase yields, look beautiful, or simply — and wonderfully — be different from anything seen before.
Stay tuned! Our jury is charged to render its verdict by October 1.