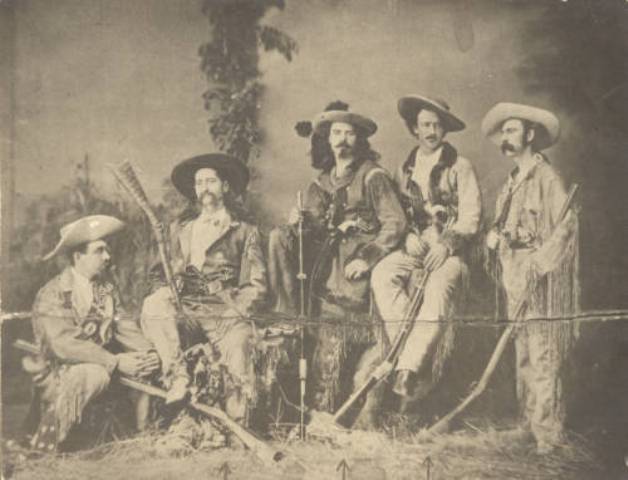 If you don't know the difference between the two men here are some entertaining facts about each to help you know who is who:
William Frederick "Buffalo Bill" Cody was born in Le Claire, Iowa in 1846. In 1883, Buffalo Bill created the Wild West show. The circus-like attraction was successful for decades and played to massive crowds all over the world. The popularity of the show made Buffalo Bill the most famous American at the time. Cody is attributed as the inventor of our national idea of the Wild West and was an inspiration for early Western movie makers like the iconic director John Ford and the incomparable John Wayne. Many of the scenes that played out in his Wild West shows: Circling the wagons, Indian attacks, and trick shooting were eventually mimicked on film. Before his time as a showman, Buffalo Bill earned a reputation as a rugged frontiersman while supposedly riding with the Pony Express in 1860, hunting buffalo for the Kansas Pacific Railroad (which earned him his nickname), and as Chief of Scouts for the Third Cavalry during the Plains Indian Wars (where he eventually received a Medal of Honor in 1872). Buffalo Bill also earned the respect of the great Sioux Chief Sitting Bull and was an early advocate of equal pay for women. He died in 1917 at the age of 70 in Denver, Colorado.
James Butler "Wild Bill" Hickok was born in Homer, Illinois in 1837. In 1861, because of a "sweeping nose and protruding upper lip" Hickok received the nickname "Duck Bill" from local bully and supposed outlaw David McCanles. McCanles, after having a financial dispute with Hickok, would be the first man reputed to have been shot to death by "Wild Bill." After McCanles' death, Hickok grew a mustache and began referring to himself as "Wild Bill." Throughout his lifetime, Hickok would work as a wagon-master for the Union Army during the Civil War, serve as a sheriff and city marshal, and kill at least six men in gunfights. A voracious gambler all his life, Wild Bill would collect his final reward at a poker table in Deadwood, South Dakota in 1876, murdered by an assassin's bullet. Hickok is widely regarded as the greatest gunfighter who ever lived, is the winner of the first recorded quick-draw duel, and was posthumously inducted into the Poker Hall of Fame in 1979. Legend has it that at the time of his demise, Hickok famously held the "dead-man's hand" (aces and eights, all black, and a "hole" card). As a side note, both Hickok and Cody were friends and in 1873 acted together in a play before going their separate ways. If you want to know more go here and search the library's photographs and manuscript collections for these two western icons.