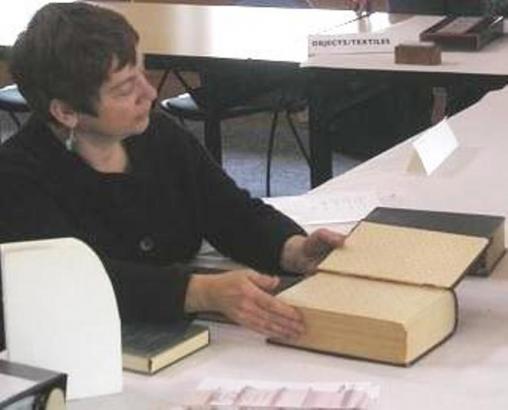 Conservator Karen Jones does some gorgeous book and paper conservation work for us in WHG. Here are some upcoming book repair classes she's teaching at the Botanic Gardens.
See here for more information.
Maintenance and Repair for Collections
During this workshop, decision-making as well as equipment and supplies needed for book repairs will be discussed. Learn a series of simple repairs for the most common damage seen in private and  circulating collections. These repairs include: paper mending (without pressure sensitive tape), tip-ins, hinge tightening, hinge replacement, spine replacement, and fabricating a polyester wrapper. We supply the pre-damaged books and everyone can concentrate on practicing these techniques without the distraction of dealing with a lot of variables. During the last session you can bring in samples of your own damaged books for class discussion and consultation. Fee:  
$120 member, $153 non-member. Prerequisites: none. Tue., Aug. 7, 14, 21, 6 – 9 p.m.
Moriki Rebacking
This technique, first introduced in 1995 by Don Etherington, is a sound and subtle repair for books that have torn or missing spines or  
torn outer hinges. It is empathetic with both cloth and leather bindings. You may bring small damaged books (19th c - 1950) for consideration. We will review criteria for this type of repair and  
choose the most promising candidates during the first session. Fee: $120 member, $153 non-member. This is considered an intermediate level repair, so some familiarity with bookbinding or book repair is preferred.
Thurs., Oct. 11, 18, 25, 6 – 9 p.m.