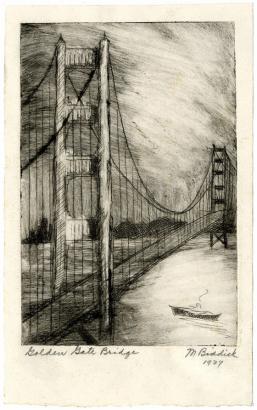 Best of the Box: Mildred Biddick
The collection includes two scrapbooks of original Christmas cards designed by Mildred Biddick, a copy of her 1933 Master's Thesis, Colorado & Regionalism, newspaper clippings of her work as the first director of school-community relations for the School Board of the Denver Public Schools, and a folder of professional correspondence and awards that she received.
My favorite parts of the collection are the albums full of drawings, etchings and linoleum cuttings that Mildred created. Many of the small masterpieces have informative and charming captions that talk about the process she used to create the piece or personal notes about the subject matter.
Mildred traveled the word with a close friend, Dorothy Richardson, and the majority of her designs depict highlights from their trips.
Descriptions in order from top left to bottom right:
1. Rothenburg, 1928. Captioned, "We drove a model-T Ford thru Germany in 1928."
2. Taxco, 1936. Captioned, "We went to Mexico and brought back this view of Taxco from our balcony."
3. Golden Gate Bridge, 1937. Captioned, "Golden Gate Bridge stands for the Pacific Coast."
4. L'arc de triomphe de l'Etoile, Paris 1952. Captioned, "The Arch of Triumph was our favorite walk at sunset in Paris."
5. Snowmass by Moonlight, 1938. Captioned, "Snowmass Mountain by moonlight was the high point of a pack trip."
6. Small illustration depicting two animals reading a book, with Mildred's close friend Dorothy Richardson's name across the bottom.
Captioned, "Then in 1929 came the big Depression."
You can view the catalog record for this collection here.