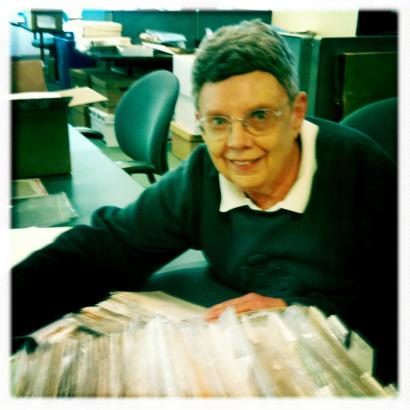 Beginning Genealogy Class This Weekend
If you have ever been interested in beginning a search into your family's past, or if you're already a seasoned genealogist looking for new tips and tricks, Beginning Genealogy Class is for you.  This Saturday, 12 March 2011, Certified Genealogist Lou-Jean Rehn will get you thinking "genealogically".
I had the pleasure of talking to Lou-Jean today as she processed one of our many unique manuscript collections in Western History and Genealogy.  Lou-Jean is a Board Certified Genealogist with a wealth of knowledge and experience.  She described the Beginning Genealogy Class as a good way to jump start your own genealogy research in an organized fashion.  It will also be useful to you if you've reached a sticky point in your research, and need ideas on where to go next.
In class this weekend you will learn how to use forms to keep track of your research findings, how to explore and utilize home sources, begin developing your own research plan, and much more.  History lives in many places: our homes, our family stories, oral histories, photo albums, journals,  manuscripts, the internet, and so on.  Lou-Jean will discuss how to tap into these sources.  Come meet other genealogy enthusiasts, and begin your own quest.
Beginning Genealogy Class
Saturday 12 March 2011
Denver Public Library, Central Branch,
5th Level, Gates Conference Room
1:30pm - 4:00pm
Registration begins at 1:00pm
Class is free and open to the public
Registration is not required.