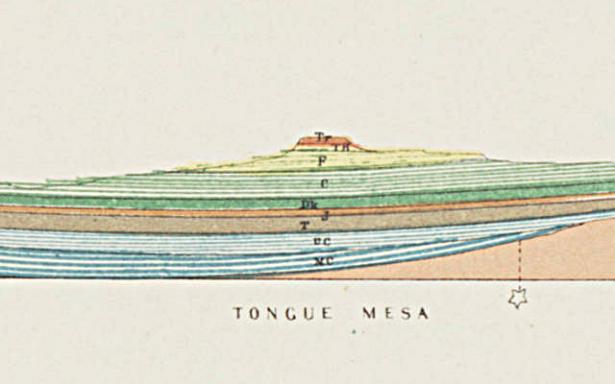 The storied Hayden Geological Survey of 1871 not only vastly expanded our knowledge of the American West with a detailed and precise atlas of the territory, it joined the talents of some of the greatest visual artists of the era: William Henry Jackson and Thomas Moran. The atlas itself is a work of art; in addition to the standard topographical maps, there are numerous bird's eye view and sectional details that are simply stunning. The crisp and sure rendering of mountains and eroded red rock landscapes is a triumph of technical skill.
The Hayden Survey explored a wide area, including the region of northwestern Wyoming that later became Yellowstone National Park in 1872. It was the first federally funded  geological survey to explore and document the territory, and it played a prominent role in convincing the U.S. Congress to pass legislation creating the park.
Now, the Denver Public Library has brought 18 of our pages from the Hayden Survey online, and they are included in our Digital Images collection in high resolution scans with amazing detail. 108 of William Henry Jackson's photographs from the survey are available as well, and we also have several great books on the subject. Start with "Strange Genius: The Life of Ferdinand Vanderveer Hayden," by Mike Foster [C550 H324zfos].
You can study the maps online for valuable historical information or simply for their beauty, or just come up to Level Five of the Central Denver Public Library and peruse the actual maps in our fascinating, treasure packed Western History Department.