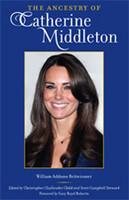 Are you related to "Little Grape"?
It all began again this past week, first on TLC the third season of "Who Do You Think You Are" kicked off with Kelly Clarkson discovering the life of her Civil War ancestor. For those who are new to the world of genealogy this is a terrific introduction to the basic premise that we all have ancestors. In Clarkson's case she was able to find out about the life that her forebear lived, not just bare bones facts of birth, marriage, and death.
You might have missed the other big news from last week if you were in a cave or stuck in a media black out. There was a birth of a child in London who ended up being named Prince George. It has come to light that for months his parents have called him their "Little Grape."
In the mean time some nice folks from the Brewster of Scrooby Manor Chapter of the Colorado Society of the Colonial Dames XVIIth Century brought us some gifts. They wanted to share with other researchers some books that have been published.
Reitwiesnes, William Addams. Ancestry of Catherine Middleton
Richardson, Douglas. Magna Carta Ancestry: a Study in Colonial and Medieval Families. 2011.  4 vols.
Richardson, Douglas. Plantagenet Ancestry: a Study in Colonial and Medieval Families. 2011.  3 vols.
Richard, Douglas. Royal Ancestry: a Study in Colonial and Medieval Families. 2012.  5 vols
These books might reveal a fresh chapter in you family history.
Another resource to help you along are some of the classes and lectures which can be found on the Library Calendar. So plan on taking the Beginners Class in Genealogy on September 14th here at the Denver Central Library. The class is free and open to all, registration begins at 9:30am and the first lecture starts at 10am and ends at around 3 in the afternoon.
You never know who's your cousin. You might even be "Little Grapes" kin!