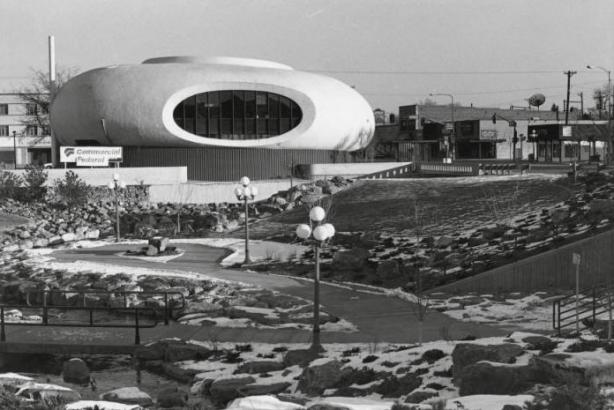 Architectural Drama in the Queen City of the Plains
Our vast photo database is filled with treasures of every flavor. Architectural firms, real estate photographers, and inspired amateurs have captured countless unique and dramatic moments in Denver's diverse architectural history, and for fans of stark contrast and daring lines, it's hours of fun.
Charles Deaton's 1965 design for the Commercial Federal Bank is a familiar landmark for millions of people, because once you've seen it, you don't forget it. A confection of '60s futuristic fantasy, the 32 foot high, 10,000 square foot concrete ellipsoid is a sibling to Deaton's even more famed "Flying Saucer House" in Genesee.
William Muchow's First Federal Savings and Loan building is captured in another of Lloyd Rule's first class portraits, at night, it's lighting emphasizing the simple, clean lines.
The Morris Miller house showcases the California Modern, or Eichler Style, with its shed roof ceiling, inset lighting, and theatrical round settee.
Browse terms like "modern," "moderne," "interiors," or explore the works of Lloyd Rule, who made thousands of photographs of buildings through the 60s, 70s, and 80s. Colorado modern architects like Deaton, Muchow, Heartling, Baume, or Gordon White are all represented in our collection. Don't forget to follow the linked subject headings in the records, too, because it's a great way to uncover new surprises.