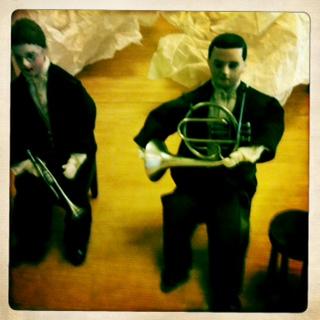 Manuscript Monday: Symphony Orchestra Figurines
Meet the Denver Miniature Symphony Orchestra, a miniature collection of figurines created by Dr. and Mrs. Cuthbert Powell.  From 1939-1946 the Cuthberts were busy crafting 100 mesmerizingly detailed orchestra members, along with equally tiny instruments, sheet music, and stands.  The project was engineered to pique interest in and encourage support of the Denver Symphony Orchestra.  In addition to the figurines, the collection includes scrapbooks, correspondence, and other music memorabilia.
The Cuthbert Powell Miniature Symphony Orchestra, and many other equally amazing materials, are available in the Western History & Genealogy department of the Central Library.