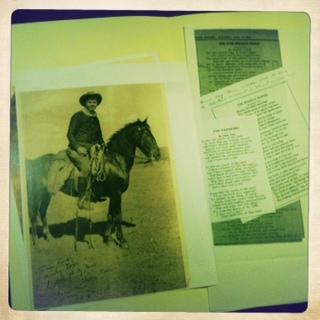 Manuscript Monday: Clement Yore Papers
During his life writer Clement (Clem) Yore wore many hats.  Read on about this cowboy poet in today's Manuscript Monday.
Clem Yore, born 1875 in St. Louis, Missouri, was a novelist, poet, copywriter, lawyer, journalist, soldier, prospector, and Estes Park resident.  He wrote 20 novels, two books of poetry, over 600 short stories and 300 poems. 
The May 1918 edition of National Magazine states: "Since his sojourn in Colorado, mountains have found place in his soul, his verse teems with the bigness and freshness of the West, and has earned for him the laurels of Colorado's State Poet. In his poem 'Colorado' is evidenced the versatility of his pen..." .
This biographical information comes from the associated finding aid, available online.  Clem Yore's collection includes unpublished and published poems and stories, photographs, articles, clippings and more.  This collection is available in the Western History and Genealogy Collection at the Central Library.