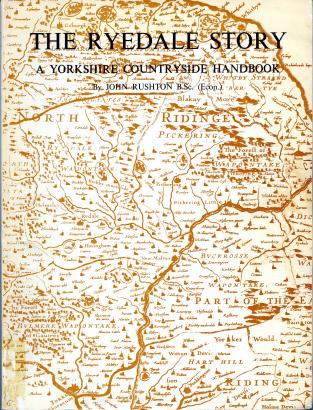 Jean Armstrong is cleaning out her books and such lovely book they are.  Jean has brought in more of her collection of English local history and genealogy materials to share with other researchers.  We will try to have these processed and out in the next few weeks for you all to enjoy.
Boyes, Malcolm and Hazel Chester. Discovering the North York Moors
Rushton, John. Ryedale Story: a Yorkshire Countryside Handbook
Aynsley, Steve. History of Well Dressing in Aston-on-Trent 1997-2009
Young, Angus. More Murders of Hull Capital Crimes
Cochrane, Margaret and Robert Cochrane. My Dear Boy: the Life of Arthur Bell Nicholls, B.A. Husband of Charlotte Bronte
Wright, Geoffrey N. Discovering Epitaphs: Being a Collection of Some of the Most Curious Epitaphs and Memorials Gathered Together
Stover, Leon E. and Bruce Kraig. Stonehenge the Indo-European Heritage
Fischer, Davic Hackett. Albion's Seed: Four British Folkways in America
Hayman. Richard. Church Misericords and Bench Ends
Chignell, Philip. From Our Home Correspondent
Sherwood, David. Complete Streets of Beverley
Gregory, Roy. Other Beverley
Jones, Mark W. A Walk Around the Snickelways of York
Milner, Paul and Linda Jonas. Discovering Your English Ancestors
Berryman, Bryan. Vintage Scarborough
Images of Victorian Hull
Williamson, Paul and Derek Hilton. Good Old Days
Barker, Malcolm. Golden Age of the Yorkshire Seaside
Russell, Stuart. Heroes, Villains & Victims of Hull and the East Riding
Hey, David. Oxford Guide to Family History
Neave, Susana and David Neave. Diary of a Yorkshire Gentleman: John Courtney of Beverley, 1759-1768
Rowntree, Arthur. History of Scarborough
Brownstone, David M. end others. Island of Hope, Island of Tears
Burniston, Christabel. Life in a Liberty Bodice: Random Recollections of a Yorkshire Childhood
Deans, Patricia E. and John Markham. Britain in Old Photographs
Old Pannier Tracks and Other Moorland Features: North York Moors National Park
Thirsk, James. Beverley Child's Great War
Gibson, Paul. A Toast to the Town: a History of Beverley's Public Houses
Vinecour, Earl. Polish Jews: the Final Chapter
Wilkins, Robert. Death: a History of Man's Obsessions and Fears
Baker, F. T. Historic Lincoln
Crawford, Jennie. Streets and Trails of the Yorkshire Dales
Peach, Howard. Curious Tales of Old East Yorkshire
Johnson, Herbert. Tales from the Wolds
Cook, A. M. Lincolnshire: Links with the U.S.A.