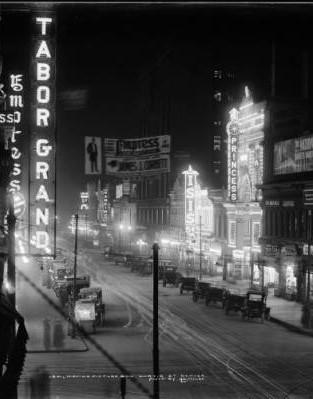 The Great White Way of America
As early as 1873, Curtis Street in Denver was "the place to go" for theatrical entertainment. Names like the "Governor Guards Opera House," "Forrester's Opera House," and "Walhalla Hall" conjure memories of the vaudeville, opera, and variety shows that drew people from around the country to Denver, "Queen City of the Plains."
Famous personalities like Sarah Bernhardt, Mrs. Fiske, Red Skelton, Fred Astaire, and the great Enrico Caruso trod the boards of Curtis Street, dazzling everyone from Denver's elite to mountain miners looking for some culture.
When Denver's City Auditorium was opened in 1909, the city made national history by being the first to conduct municipal theater. The city maintained a regular season of entertaining events at prices all could afford. At the heyday of Curtis Street's theatrical excitement, there were, between 16th and 17th Streets on Curtis alone – some six or seven theaters.
The electric thrill of bright lights at night on Curtis Street brought people from around the world to witness "the best lighted street in America," which was the only thing like it for at least 1500 miles in any direction. To people used to country life and quiet small towns, coming to Denver to stroll down Curtis Street in the evening and take in a play, movie or vaudeville show was the thrill of a lifetime.
Long gone now, "The Great White Way" remains only in photographs, newspaper articles, and books, all housed in the Western History Department or available in our internet databases. Though much different today, night life in Denver is still the most excitement of its kind between Chicago and Las Vegas, even without Milton Berle or Jack Benny.