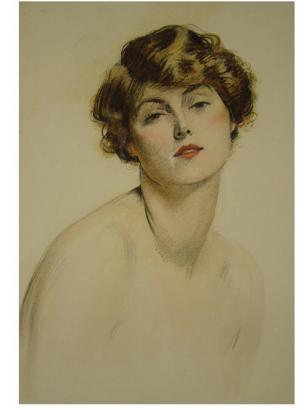 Exhibit: Colorado Face to Face
Denver Public Library presents Colorado Face-to-Face: Portraits from the Denver Public Library Collection, on view in the 7th floor Vida Ellison Gallery at the Denver Central Library.
The exhibition features over 100 pieces of artwork depicting over 150 years of life in Colorado, including paintings, sculpture, and historical photographs spanning from the mid-1800s to present day.
The show is divided up into 5 distinct sections:
Power and Prestige
Beloved Faces
Ethnographic Images
Historical and Celebrity Faces
Self-Portraits and Artist's Portraits.
Some of the most iconic paintings include: Leopold Guldman, one of Colorado's leading pioneer merchants and philanthropists, helping to found Temple Emanuel, National Jewish Hospital and Beth Israel Hospital, a young Caroline Bancroft who is most famous for her original work on Colorado history, on which the opera The Ballad of Baby Doe and the musical The Unsinkable Molly Brown were based, and General James W. Denver, an American politician, soldier, lawyer, and esteemed actor for whom the city of Denver was named. The exhibition is free to the public. Tours are available by request through May 12. To arrange a tour, please email Deborah Wadsworth at dw824725@msn.com.
The Vida Ellison Gallery is located at Denver Central Library, 10 West 14th Avenue Parkway, Denver, and is open to the public Mon-Saturday, 10 a.m. – 5 p.m. and closed on Sundays.
Colorado Face-to-Face was curated by Deborah Wadsworth, who has been a collector of historic art of more than forty years. In conjunction with the Denver Public Library, Deborah curated an exhibition on John Edward Thompson, the artist who introduced modernism to Colorado. She has written articles and lectured on Colorado historic art, and last year curated a show at the Denver Public Library titled Fifty-Two Originals: The Founders of the Denver Artists Guild. She is currently co-curating a show with Hugh Grant, the director of the Kirkland Museum of Fine and Decorative Arts, on the modernist arts group called The Fifteen Colorado Artists - Breaking with Tradition which will open in May.
IMAGES:
 
Caroline Bancroft, Age 25; (1900-1985); Pastel; by Mark Richard Milbanke, 1926.
 General James W. Denver (1817-1892); Oil on Canvas, Artist Unknown.
 Leopold H. Guldman (1853 - 1936); Oil on Canvas; by Paul Theodore Koenig, c.1900
 Muriel Sibell Wolle (1898-1977); Oil on Canvas; by Gwendolyn Dufill Meux