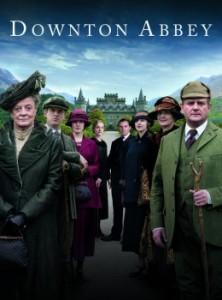 Downton Abbey Season Four
Do we discover that Mr. Carson, butler of Downtown Abbey and curator of Crawley Tradition with a Capital T, former performer in the Cheerful Charlies, began his dancing career with Buffalo Bill and the Wild West Show? Or worse that Sam Arnold founder of the Fort Restaurant is the grandchild of Mrs. Patmore, head cook at Downton. Possibly we discover that Mrs. O'Brien has left service in England to taken up a position with Margaret Tobin Brown and J.J.
Ah, the tricky life of those above stairs as well as our favorites below. To discover more about life in a country house both upstairs and for those "in service" you can explore the following materials scattered throughout the branches of the Denver Public Library.
Anne Garnett, Caught from Time: a Country Diary of the 1920's
Mark Girouard, Country House Companion.
Mark Girouard, Life in the English Country House: a Social and Architectural History.
Jacky Hyams, Real Life Downton Abbey: How Life was Really Lived in Stately Homes a Century Ago.
Ronald Jager, Last House on the Road: Excursions into a Rural Past. 
Lucy Lethbridge, Servants: a Downstairs History of Britain from the Nineteenth Century to Modern Times.
Alison Light, Mrs. Woolf and the Servants: An Intimate History of Domestic Life in Bloomsbury.
David Littlejohn, Fate of the English Country House.
Alison Maloney, Life Below Stairs: True Lives of Edwardian Servants.
Jeremy Musson, English Manor House: From the Archives of Country Life.
Daniel Pool, What Jane Austen Ate and Charles Dickens Knew: From Fox Hunting to Whist: the Facts of Daily Life in Nineteenth-Century England.
Margaret Powell, Below Stairs: the Classic Kitchen Maid's Memoir that Inspired "Upstairs, Downstairs" and "Downton Abbey."
Margaret Powell, Servants' Hall: a Real Life Upstairs, Downstairs Romance.
Robert Roberts, House Servant's Directory, or, a Monitor for Private Families: Comprising Hints on the Arrangement and performance of Servants' Work.
Pamela Sambrook, Country House Servant.
Christopher Sykes, Golden Age of the Country House.
Sarah Warwick, Upstairs & Downstairs: the Illustrated Guide to the Real World of Downton Abbey.
Merlin Waterson, Servants' Hall: a "Downstairs" History of the British Country House.
For those who want to pursue their family story allow me to recommend Pamela Horn, My Ancestor Was in Service. This was published in London by the Society of Genealogists in 2009.