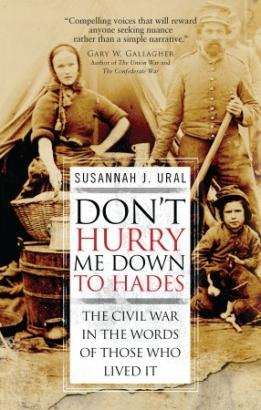 Don't Hurry Me Down to Hades
...that you could not put it down. Susannah J. Ural in Don't Hurry Me Down to Hades: the Civil War in the Words of Those Who Lived It is one or those books. Filled with images, both literal and literary, the reader is confronted to the subtlety of war and its consequences. 
The faces and images of the familiar leaders are present along with photographs and the stories of everyday people both black and white.
Readers will want to compare it to the catalog, Photography and the American Civil War by Jeff Rosenheim, compiled for the exhibit by the same name mounted last year by the Metropolitan Museum of Art. Again, it was a visual testimony to the those who took part in the American Civil War. We encounter images of men and women, Union and Confederate, African-Americans and Ameripeans through formal portraits, battle scenes and occurrences of ordinary lives.
Come on down to your local branch of the Denver Public Library and see what materials are on the shelves that will help you gain a better understanding of this period in our collective past. Visit the Western History and Genealogy Department to explore your family's role in the American Civil War.