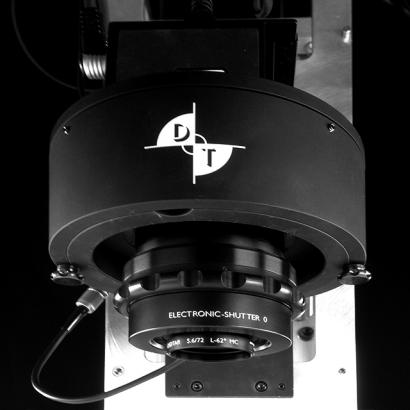 Digital Archiving in the 21st Century! (or at least in the early part of it...)
When our program began not-so-long-ago in 1996-- I doubt very much that those involved could have conceived of the changes-- and new sets of challenges-- that technology would deliver in ten years' time. A comprehensive history of what the program looked like in the beginning, and how it grew at first can be read here, but we'll give a condensed version for you now.
The vision of those who developed our digitization program was wide-- and sharp. Namely, a gentleman Agostino "Augie" Mastroguiseppe was the man that spearheaded the concept of taking DPL's historical photographs into the digital realm. As WH/G's Curator of Photographs, he became extremely passionate about the possibilities of wider access to, and preservation of our treasured collections.
It was largely through Augie's efforts that the project moved forward and led to DPL winning awards from Boettcher Foundation, National Endowment for the Humanities, and the State Historical Fund of Colorado. There were additional, concurrently implemented grants from U.S. Department of Commerce Telecommunications and Information Infrastructure Assistance Program, Library of Congress/Ameritech, Bruce and Virginia Rockwell, Bonfils-Stanton Foundation, and what was once known as the Colorado Digitization Project.
It was through this wide array of funding that DPL became an institution at the forefront of generating access to collections through digital presentation. While terms such as 'spearheading' and 'trailblazing' may sound adventurous and romantic-- they aren't without pitfalls and treachery. At the inception of digitization, the equipment was extremely expensive, and the resulting digital captures, while fascinating indeed-- weren't exactly impressive by today's standards.
Storage of digital files appeared to be an almost impracticable expense. Construction and maintenance of computer servers was daunting.  Lab PCs lacked processing power, and imaging software was just beginning to grow legs. In the WH/G Imaging Services Lab, a large overhead view camera which employed a BetterLight digital scanning back had been constructed. It was state-of the-art technology developed by Kodak engineers and packaged within this new tech-- a scanner--mounted to a camera? Whoa!
The irony of having a camera capable of imaging large maps and artwork and other unorthodox size formats meant that it could generate files bigger than the computers of the day could deal with. This could be illustrated by comparing it to driving a Ferrari-- but the speed limit everywhere is 25 MPH.
Today-- the digital world of megapixels and terabytes, fractal geometry and hi-definition are the norm. Photographic imagery, and visual, virtual information is ubiquitous. iPhones and iPads can capture more pixels with color fidelity and can process them faster than the iMacs of yore and with more storage and algorithmic punch available than even desktop PCs had just a few years ago.
Any institution beginning to build a capture lab for generating a digital archive right this minute would be better off than we ever were. Even the simplest and most inexpensive flatbed scanner and bottom-end PC can generate higher quality images than were created by us in the beginning. As time passed and technology improved, DPL was losing ground with regard capture production capability, and with an extreme need for a better digital asset management system to facilitate web delivery, ease of cataloging, and  for long-term archival storage on a continually refreshed, redundant server.
A few years ago, the development plan for bringing us up to new standards was put into motion. A team of staff members began a vetting process for a digital asset management and archive vendors. After much deliberation, planning and problem solving we chose ContentDM, which is a product of OCLC, which also provided the subscription to their archive services. This, in a nutshell, is our institutional equivalent of the "cloud" that has become the safeguard for nearly all computer users these days, and allows us to bring WH/G's Digital Collections to our customers.
We also began the search for new capture capabilities, since the BetterLight scanning back/large format camera combo was an endangered species about to become extinct. During our research into modern capture options, I personally became smitten with the product and services offered by Digital Transitions, Inc. Having met with their representatives in June of 2010 and through a hands-on demo, I knew that this was the course we must take in order to maintain and even surpass the quality levels we'd become accustomed to. The only thing standing between the lab and a new camera system was the serious need for investment capital-- which brings up a small, but very significant factoid regarding the Imaging Services Lab. Even though we are housed within the Central Library amid the manuscript collections and architectural drawings and models we have-- our lab is nearly autonomous. Our staff members' salaries and equipment and materials costs are paid from trusts sustained only through our sales of printed and digital reproductions of our items. We're grateful for the citizens whose tax dollars keep the electricity, heat and AC running in the lab, but all else requires great effort-- combined with fiscal responsibility and generous donations when they happen to arrive at our door.
Such was the case with the purchase of the DT RCam setup. Wes Brown, a lifelong fan and customer of DPL made a paramount contribution that set the project in motion. Through the efforts that followed, our Manager Jim Kroll was able to procure the rest of the funds through assets and investment holdings from other trusts owned by the department. In February, we installed the unit and began lightning fast, razor sharp and exquisite color reproduction and are now prepared to deliver absolutely superior digital renditions of our prized photographic and art collections.
Where the previous rig would take minutes to capture an item, that same item could now be rendered as a superior digital archive file in 1/8th of a second. We are all extremely excited to once again be at the cutting edge of image capture technology. And, we are proud to belong to the community of renowned institutions across the globe bringing their collections to the world via the best tools out there. (for a while at least, and hopefully a long while.)
For now, back to work-- and we'll be bringing you more fantastic images soon-- stay tuned!