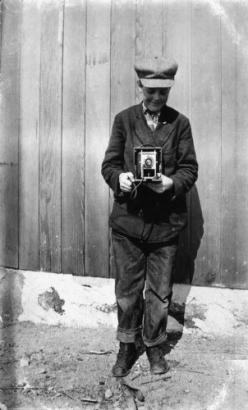 Denver's Month of Photography Begins
Spring is fast approaching, and what better way to celebrate this beautiful season than through photography.  March is the Month of Photography in Denver.  Throughout the city various galleries and other venues will be hosting photography exhibits, lectures, portfolio reviews and more.
Here in Western History & Genealogy we are celebrating the launch of our new Digital Collections website, where our photographic collections are showcased.  The west has a rich photographic history, and on our site you can find images of all sorts: landscapes, people, social events, farming, trains, rodeos, animals, buildings, and so much more.  WHG also sells prints, posters, postcards, and other digital media. 
Currently on display in the 5th floor gallery of the Central Library is the Colorado Photographic Arts Center's 2011 Juried Show.  The show features work from 23 artists, and will be up through March 31.
In other photo news, our neighbor,  the Camera Obscura Gallery, is closing after 32 years.  The gallery has passionately promoted photography as an art form, and has supported photographers, students, collectors and appreciators of the medium.  They are hosting many events this month as well.