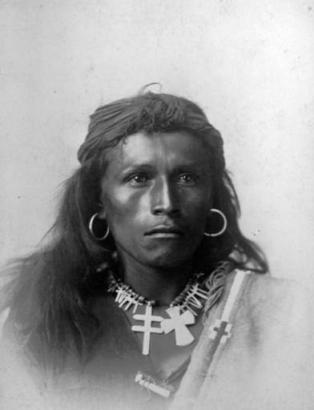 Thomas Torlino, a Navajo Indian, demonstrates in these before and after pictures the change he underwent in the Carlisle Indian School in Carlisle, Pennsylvania. Looking at the untamed, vibrant and creative human in the first image, and the domesticated, neutralized citizen in the second [linked below], I'm reminded of lines from Chief Seattle's famous speech:
"There was a time when our people covered the land as the waves of a wind-ruffled sea cover its shell-paved floor, but that time long since passed away with the greatness of tribes that are now but a mournful memory... Your destiny is a mystery to us, for we do not understand when the buffalo are all slaughtered, the wild horses are tamed, the secret corners of the forest heavy with scent of many men, and the view of the ripe hills blotted by talking wires.
    Where is the thicket? Gone.     Where is the eagle? Gone.     The end of living and the beginning of survival."
Thomas Torlino "survived" Carlisle Indian School, providing us with a lesson - through these pictures we can peer into the past and catch our own glimpse of the "secret corners of the forest."
Thomas Torlino before and after Carlisle School, photos by John N. Choate, 1848-1902.