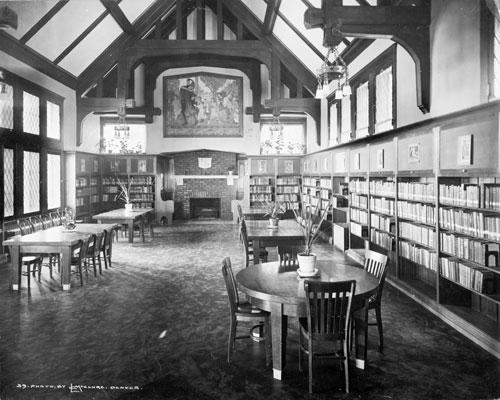 100-Year Anniversary of the Woodbury and Decker Branch Libraries
Decker Branch Library event details and trivia contest entry form for your chance to win prizes!
Woodbury Branch Library event details. Come early to be entered for local community raffle prizes!
The Denver Public Library will be celebrating the 100-Year Anniversaries of two of their historic branch libraries on Saturday, July 13 from 9 a.m. – noon.
The community events will include family-friendly activities, photo booths, live performances and refreshments.
Both the Sarah Platt "Decker" Branch Library and Woodbury Branch Library are two of the original Carnegie libraries in Denver, funded by steel-magnate and philanthropist Andrew Carnegie between 1913 and 1920. Five of the Carnegie libraries are still in operation and serve as anchors in Denver's diverse neighborhoods (Decker - 1913, Woodbury - 1913, Byers - 1914, Smiley - 1918 and Park Hill - 1920).
The Decker Branch Library, located in South Denver originally opened on June 17, 1913. The branch is named after Sarah Platt Decker, a leader of the woman's suffrage movement and President of the Colorado Board of Charities. When she died in 1912, she was the first woman to lie in state at the Colorado State Capitol. The building itself was designed in the English cottage style and the interior is donned with early twentieth century murals. In 1984, the Denver Landmark Preservation Commission designated the Decker branch library a historic landmark. In 2009, the branch library underwent renovations as part of the Better Denver Bond program. Today, the Decker branch serves the Platt Park neighborhood offering storytimes and thousands of materials available for check out. In 2012, the Decker branch library welcomed 81,439 customers and circulated 194,329 materials.
The Woodbury Branch Library, located in Northwest Denver originally opened on July 9, 1913. The branch library was named after General Roger Williams Woodbury, one of the founders of the Denver Public Library and first Library Board President. After the Civil War, Woodbury became a local editor, managing editor and partial proprietor of the Denver Daily Tribune, President of the Union Bank of Denver, President of the California Eastern Railway Company and President of the Chamber of Commerce. Some say General Woodbury was one of the most influential men in Denver and Colorado. Designed in the Italian "Florentine" Renaissance-style, the Woodbury Branch Library was honored as a member of the National Register for Historic Places (1986) and designated a historic landmark by Denver Landmark Preservation (1989). In 2009, the Branch was renovated as part of the Better Denver Bond program. Today, the Woodbury branch library serves the diverse Highland neighborhood and offers a variety of programs and storytimes in both English and Spanish. In 2012, the branch welcomed 176,043 customers and circulated 383,234 materials.